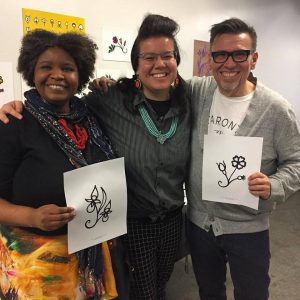 Aaniin! My name is Neebinnaukzhik Southall. (Neebinnaukzhik means "Summer Evening" in the Anishinaabe language.) I often go by Neebin. I am a member of the Chippewas of Rama First Nation. I am a graphic designer, artist, photographer, and writer. Neebin Studios is my small creative business based in Santa Fe, New Mexico.
I run the Native Graphic Design Project, which seeks to build recognition of Native graphic designers and underrepresented groups in the field. The website features a growing list of Indigenous designers, a blog, as well as links and resources.
With my writing, I often cover art and design, especially work by Native peoples. I have written a number of articles for First American Art Magazine, a periodical dedicated to Indigenous arts from the Americas from Indigenous perspectives, as well as the Santa Fean's Native Arts magazine and the Santa Fe New Mexican's Indian Market magazine.
In 2011, I graduated from Oregon State University with an Honors BFA in Applied Visual Arts with a minor in Visual Arts.